DRUM BRIDGE by Bobbie McCrea

​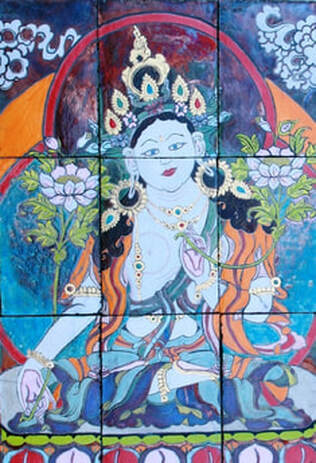 TIBETAN WHITE TARA
​ by Megan McCrea


​
ABOUT THE ARTISTS Bobbie McCrea & Megan McCrea
​

MEDIUM: Stoneware & Raku clay

Born in Southern California, Bobbie's interest in sculpture and pottery began at Glendale High School in the early sixties.

​Through the years she has studied ceramics and sculpture at various colleges and studios throughout California & Texas.

From the mid 80's to the mid 90's Bobbie created several hundred original "southwest style" works of sculptures and relief pots for an import company in south Texas. These pieces were reproduced and sold worldwide.

Bobbie's Daughter Megan joined her in the studio in 2005 after studies in Art History, Drawing & Painting, and traditional Tibetan Drawing.​

Raku clay is used to make "SHARDS" (wall art), vases, decorative plates, wind chime bells and sculptures.

Many of their Raku glazes are formulated themselves from raw materials. About 80% of their work is Raku fired, an ancient Japanese method causing the glaze to crackle and the copper in the glaze to change various colors, ensuring each piece to be unique.

Most of their functional pottery, made from high fire stoneware clay, is wheel thrown and has a Japanese influence.


R A K U F I R I N G
slideshow